Project: Convert an existing system used for billing and scheduling to a new Windows based software system. a new domain was designed to accommodate the new practice management software and new digital x-ray system. Multiple servers were required to handle the processing needs. This business also has a satellite office in a second city. A point-to-point VPN connection connects the satellite office to the main servers. The doctors also have portable computer that allow them full access to the servers over any Internet connection.
Project: Install new digital x-ray equipment. An assessment of the clients current computer compared to the new software requirements lead to the recommendation to replace the existing server and the installation of some new computers to accommodate the new digital software requirements. While the exiting network cables were located properly, they needed to be properly installed to a patch panel and a gigabit switch was installed along with gigabit network cards in all computers.

Project: Design and install an entire new network in a large marine repair facility. This facility need connectivity across the entire property so a fiber optic backbone was installed. A room was converted into a suitable server room with security and proper environmental control. A complete rack was designed and installed in this room. A full gigabit network was installed with no outside access with the exception of e-mail via Microsoft Outlook Web Access.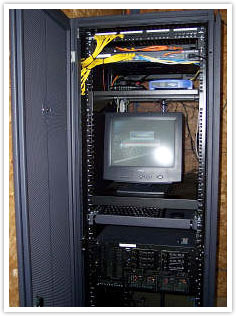 Project: Convert a small Auto repair facility with two locations from a UNIX based system to a new version of the software which is Microsoft Windows based. The software company had the responsibility to convert the data and supplied a pre-configured server. Converted all computer to be part of the new domain. The remote shop had not been connected in the past so both locations installed a business class DSL connection. This connection was simply to slow to allow for the originally designed VPN tunnel, so we implemented Terminal Services and the remote facility connects with the main shop with terminal service connections.

Project: Support a television station during a period of time when the station was being purchased. Representing the original owner, It was my position to keep the current cluster of servers fully functioning at their peak and to support various end user needs. I was also charged with interfacing with the new owners representatives to insure a smooth transition to a new network.
Project: Support a radio stations engineer with computer related issues. Assist and guide the station to maintain a stable environment. Convert a workgroup environment into a new domain with a new server. Create a 'cluster' of two servers for the production environment. Upgraded all computers to either Microsoft Windows 2000 Professional or Microsoft Windows XP Professional.